Show Case

Painting Filling Machine 10-20L Barrel Weighing Machine (special for middle barrel)
Feature1. Filling Method: Filling from top.
2. Control Mode: Manual setting filling way, micro switch control.
3. Conveying Mode: Roller Type Conveying without engine.

4. Own digital displaying filling quantity function, can finish multi-kinds filling quantity setting.
5. Automatic peeled, based on net weight filling function.
6. Own vacuum withdrawing function to avoid anti-drip.
7. With manual & automatic micro switch control system function.
8. Dual speed control function to prevent splashing.
9. With emergent treatment to avoid misuse and protect power-off.
10. With SUS316 material of inside pipeline, which is liquid contact part.
Application of 10kg automatic big lids buckets weighing filling caps falling press capping machinery automated line:
Weighing filling machine is made based on international technique, with filling and electronic weigh, electronic displaying functions.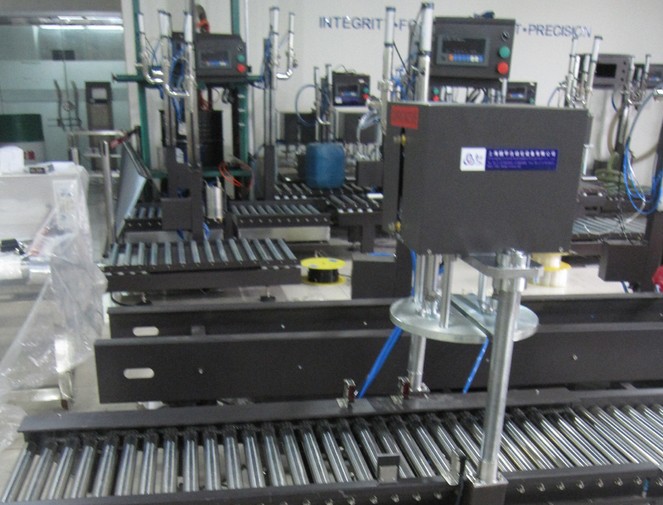 It is suitable for medium bucket filling of various kinds of viscous, non-viscous, corrosive and non-corrosive liquid.
Basic parameter of three heads paint liquid filling capping machinery:
Type Accuracy
Weighing Range Filling Speed Air Supply Power Supply Dimension(mm) Weight ±0.2% 5-30kg 120-150pcs/
hour 165L/min AC220V 50HZ
1000x650x1450 80 kg
For more information about bucket filling capping machine visit site at http://youtube.com/user/cosmeticmachines as well as business blogger at http://penglaichina.com