fully automatic filling machine

Water filling production line water purifier bottles blowing machinery washing filling capping shrin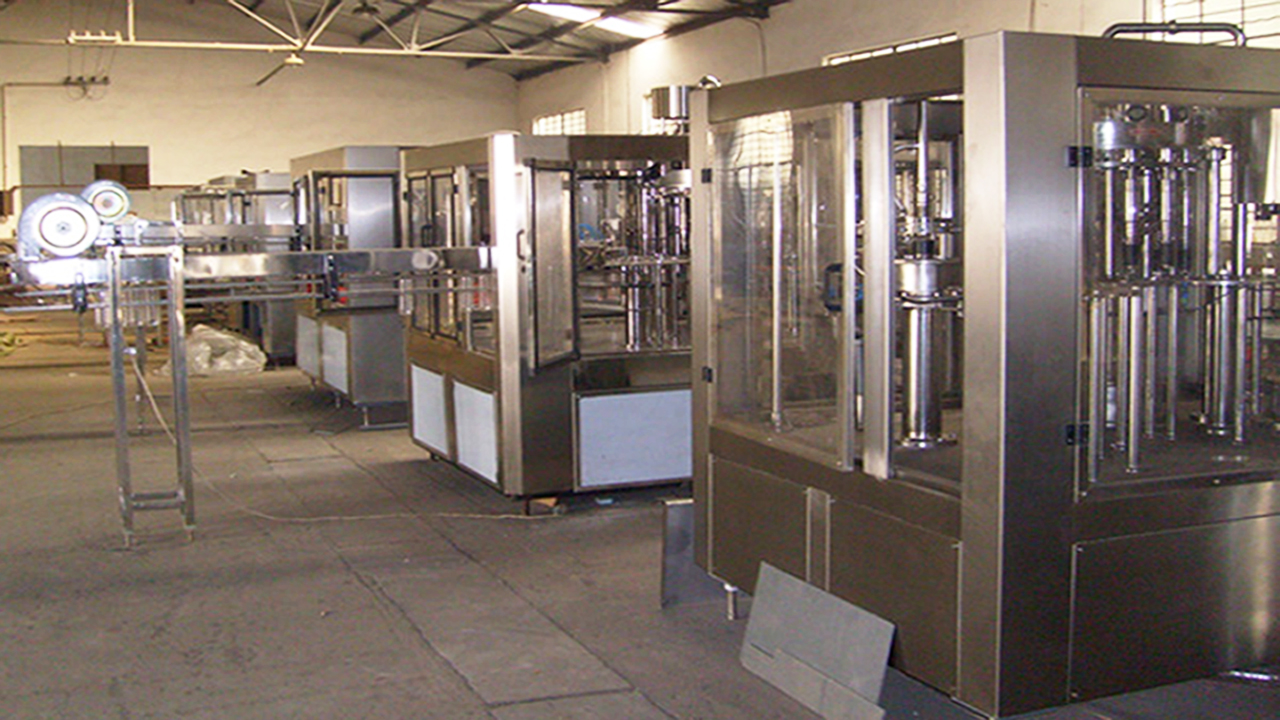 The whole line including the machine as below :
Ⅰ.2cavity bottles blowing machines
Ⅱ.Water purifier 1000L RO system
Ⅲ.12-12-3 Three in one rotary water filling line
Ⅳ.Ink printer for date codes
Ⅴ.Automatic Shrink sleeve labeling machine
Ⅵ.Automatic bottles sleeve wrapping machine
By means of the above-mentioned machines then you can get the final products water bottles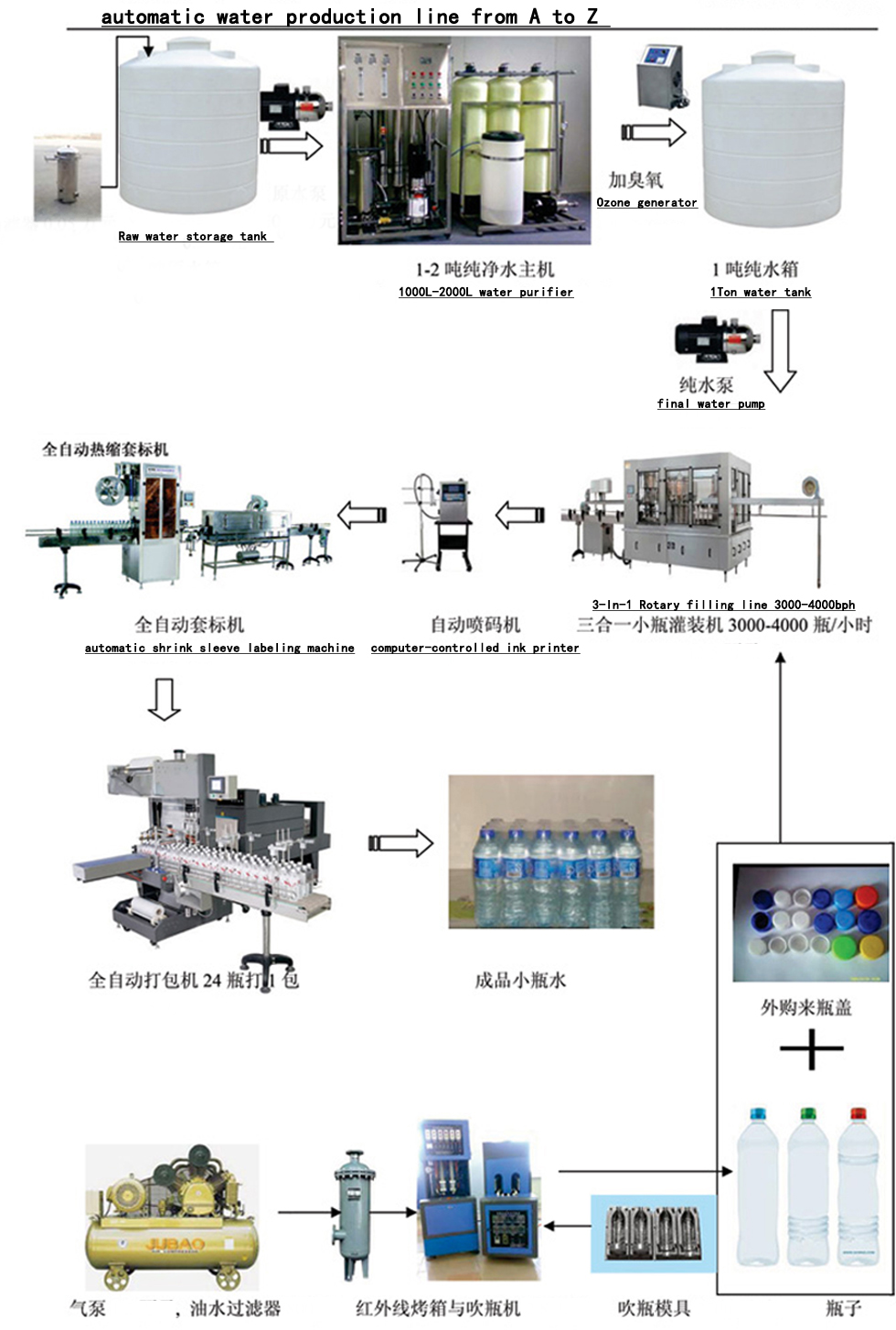 Below are the machines listed from A to Z for the water production line one by one with detailed description and data like videos pictures etc
Ⅰ.Semi automatic bottles blowing machines model YX-BL02
Semi Automatic Bottle blowing Machines for 100-1000ML PET Bottles with 2 cavity/4cavity
YX-BL02 is the fastest liner blow molding machine in mainland of China by now. The bottle blower reaches around 4200BPH for 350ML bottle. Its baking tunnel is separated from the blow station so that time for mold opening is shortened with a result of speedy blowing and high output, damage to machine is lessened so as to keep reliable performance and prolong service life, as well as machine runs more smoothly and steadily.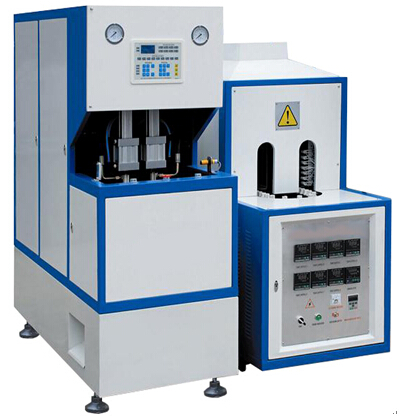 ♥YX-BL02 automatic stretch blow molding machine is equipped with patented preform loading system, which consists of two manipulators: rectilineal manipulator and overturning manipulator. The rectilineal manipulator moves preform with neck up to the preform holder, after heating, the overturning manipulator grips heated preform and overturn 180 put preform to blow station with neck down. After stretching and blowing, the bottle is taken off by overturning manipulator. The specially designed preform loading & bottle discharging system avoid possible damage to preform & bottle during transportation
♥ Semi Automatic Bottle blowing Machines for PET Bottles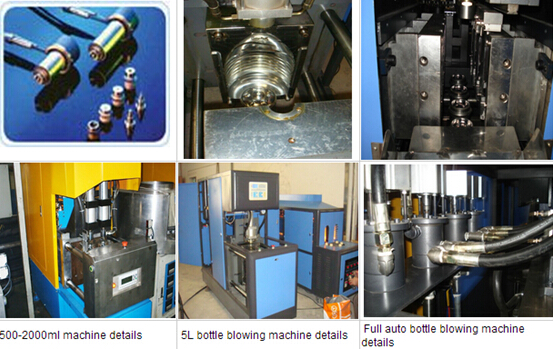 Control system
Together with HITECH Man-Machine Interaction (MMI) control panel with user-friendly, the whole control system presents super performance with precise control, convenient parameter setup, obvious display and reasonable memory.
Operation:
The standard operation of YX-BL02 stretch blow molding machine includes four steps as follow
Step 1. Put the preform into preform container and the conveyer will take the preform to orientation units automatically.
♥Semi Automatic Bottle blowing Machines for PET Bottle

Features of two cavity bottles blowing machine semi automatic model YX-BL02:

A. Stable performance with advanced PLC.
B. Conveying preforms automatically with conveyor.
C. Strong penetrability and good and swift distribution of the heat by letting the bottles rotate by itself and revolute in the rails simultaneously in the infrared preheater.
D. High adjustability to enable the preheater to preheat preforms in shapes by adjusting the light tube and the length of the reflecting board in the preheating area, and eternal temperature in the preheater with an automatic thermostatic apparatus.

Basic parameter of 2cavities/4cavities semi automatic bottles blowing machines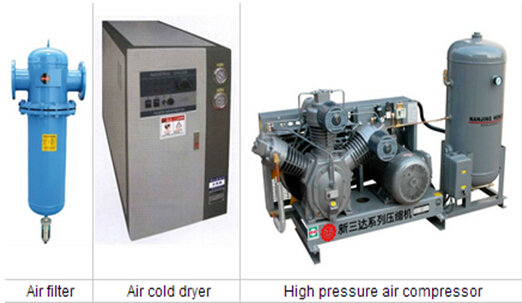 Type

Item

YX-BL02 Model

Host Machine

Volume of produvt

L

2(2-cavity)

Output

pcs/h

450-1000

Max.neck diameter

mm

15-75

Max.container diameter

mm

105

Mold size

mm

350*450

Mold thickness

mm

120-170

Open and close mold schedule

mm

170

clamping force

KN

50

Stretching lenght

mm

360

Operating pressure

Mpa

<=1.0

Blowing pressure

Mpa

<=4.0

Blowing power

KW

0.2

Weight

Kg

700

Size

mm

1520*580*1780

Oven

Power

KW

10

Weight

Kg

450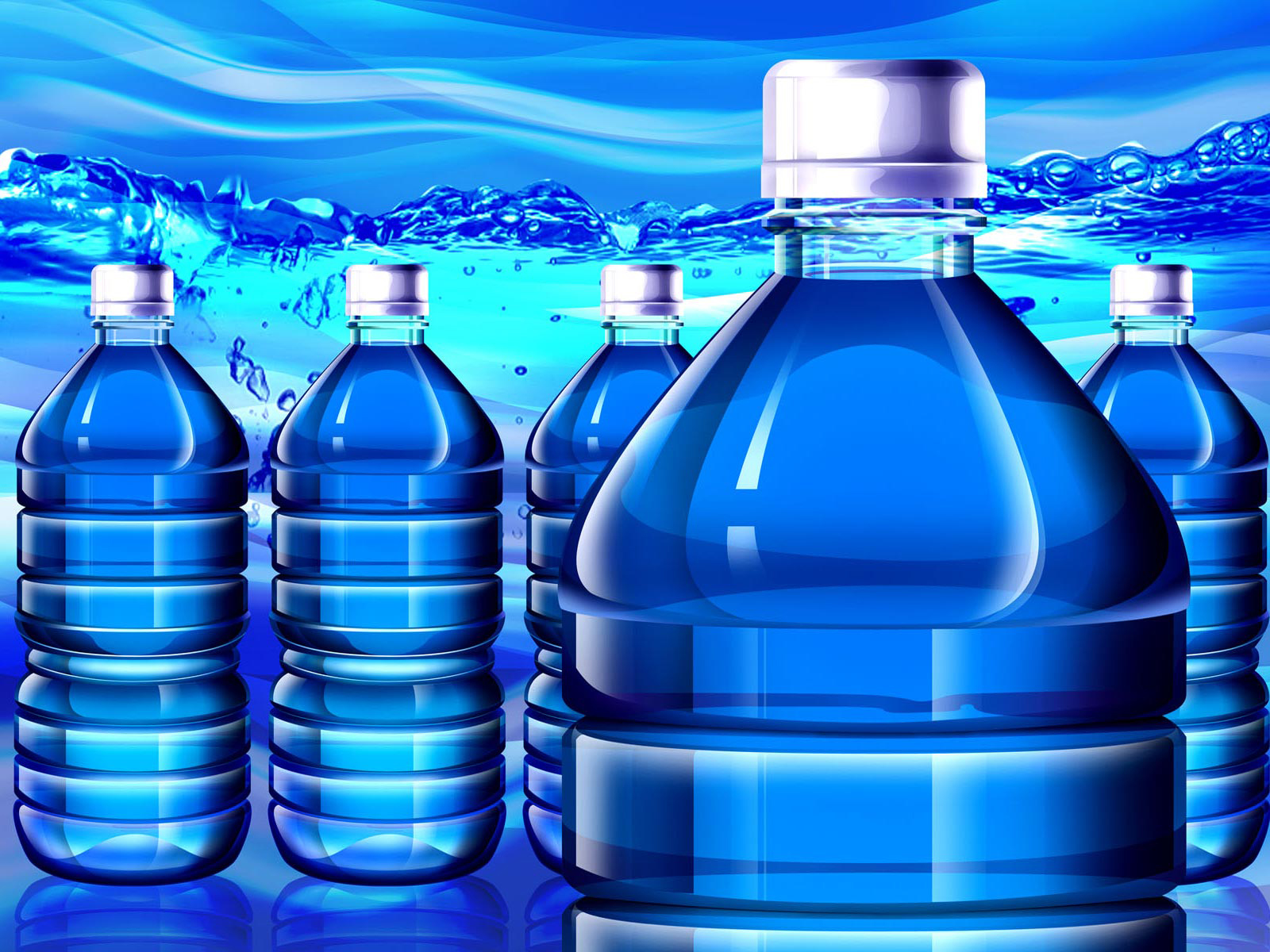 Ⅱ、2T One stage Reverse Osmosis Water Purifier

Specification:
RO Water purifying system uses the American latest Reverse Osmosis device. Meanwhile ,this equipment with the preprocessing device, by the high pressure , it enables the water to pass the reverse osmosis film with a diameter of one ten-thousandth of a micron and separates impurities, ion, microbes and colloids in the water, so as to meet the water requirements in cosmetics ,pharmacy ,electronics and food
industries.

Technological flow chart of water production
EEquipment configuration
1、 Pressure Pump
Material:Stainless steel
Model:5㎡/h
Quantity :3pieces
Brand :Joint venture
2、 Multimedia Filter
Material:Stainless steel
Model:1465
Configuration:Stainless steel pipes and valves
Filtering material:Quartz sand
Quantity :3sets
Country of origin:America
2、 Active carbon Filter&Sand filter
Material :stainless steel
Model :1465
Configuration:Stainless steel pipes and valves
Filtering material:Apricot shell Active carbon
Quantity :2sets
Country of origin:America
3、 Ultrafilter
Material:stainless steel
Model:D220×H550
Filter element :PP 20 inch 5pieces(3-5u)
Quantity :1set
4、 RO system (first stage and second state main machine)
Model :RO-2000L
Country of origin:Assembling the imported parts
Configuration :(1)4 pieces BE-4040 low pressure Conposite membrane,4 pieces stainless steel tubes.
(2)1 piece High pressure pump , the model is QDL2-150,the type is vertical multistage pump。
(3)Stainless steel frame,stainless steel pipes,pressurization index is 25㎏/㎝2。
(4)Electric controller (Including 1 piece digital readout conductivity gauge,2 pieces flow gauge,4 pieces pressure gauge,1 piece PLC Controller,3 sets Pump control switch.
(5)PLC and Imported solenoid valve control the automatic flushing system(Automatically flushing 60seconds when the machine turn on,automatically flushing 60 seconds after the machine working 6 hours continuously )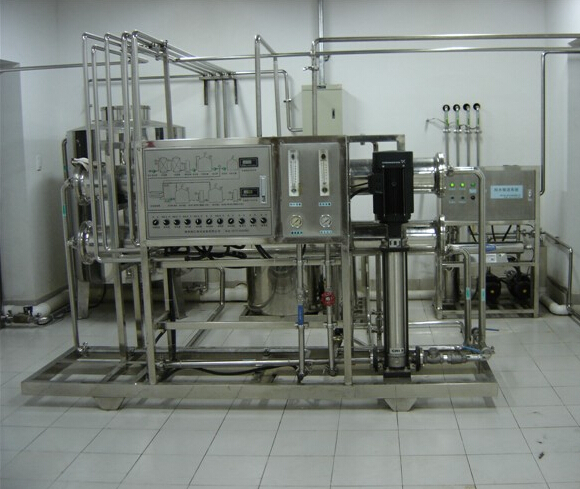 Capacity and characteristics
1、 Continuous water production without the need of regeneration ,reducing labor strength.
2、 Automatically turn the machine off when it is short of water cause by the low pressure and full of water cause by the high pressure .
3、 PLC microcomputer monitoring, flushing the reverse osmosis membrane af regular intervals.
4、 Small in size ,low energy consumption,non-pollution ,no need regenerateion and meet the GB drinking water requirements.
5、 90% parts are imported , using the famous brand membrane to improve the stability and durability of the equipment.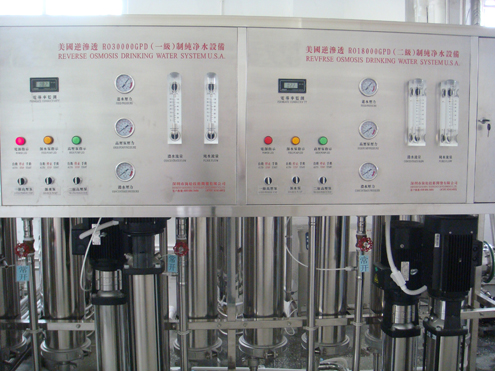 The requirements of the machine operation
a) Raw water
1、Pressure of water-in ≥1.5㎏/㎝2 2、pipe diameter≥1″
3、Comductivity of the water-in≤300us/㎝
b) Voltage
Three phase and four wires 15A RCD
c) Size
2300×800×1800m3
Power:3.5kw Voltage:380V three phase four wires Current:Max 6A
Ⅲ.YX-12-12-3 water filling machine three in one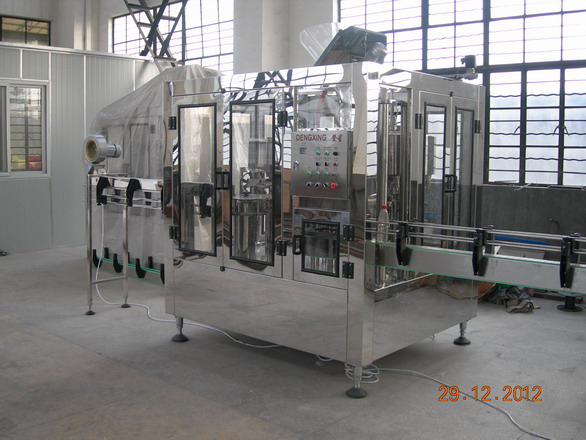 The equipment is used in production of non-soda drink of fruit juice, fruit wine, minerals and pure water packed in polyester bottles. Washing, filling and capping are integrated in one machine.
The most advanced technology from Japan and Germany is employed in the design. The gravity fixed liquid surface filling is used. The filling is fast, the amount of liquid is accurately controlled and the dropping and leakage are avoided.
Spring cramps are used in the bottle washing process. The empty bottles can be turned over180~ along the conveying rail. There are two times of internal and external washing, the efficiency of bottle washing is high.
The magnetic torque is used for screw capping. The power of screw capping can be adjusted without steps. The power of the screw capping can be adjusted without steps. The power of the screw capping can also be fixed, and the caps will not be damaged, the capping is reliable.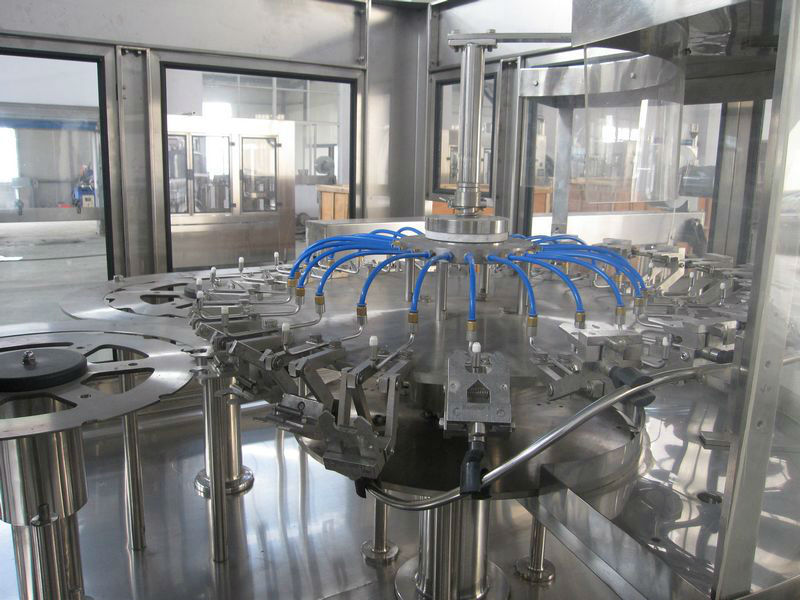 The whole machine is controlled by PLC with touch-screen as the human-machine interface. The amount of the drinks in the storage tank can be controlled automatically. The filling and capping will be stopped automatically when there is no bottle. When bottles are cramped wrongly or when caps are not available, the machine can be stopped automatically.
The frequency changing technology is used to adjust the operation speed steplessly. The production capacity can be displayed digitally and can be adjusted conveniently.
Specification of rotary filling machine three-in-one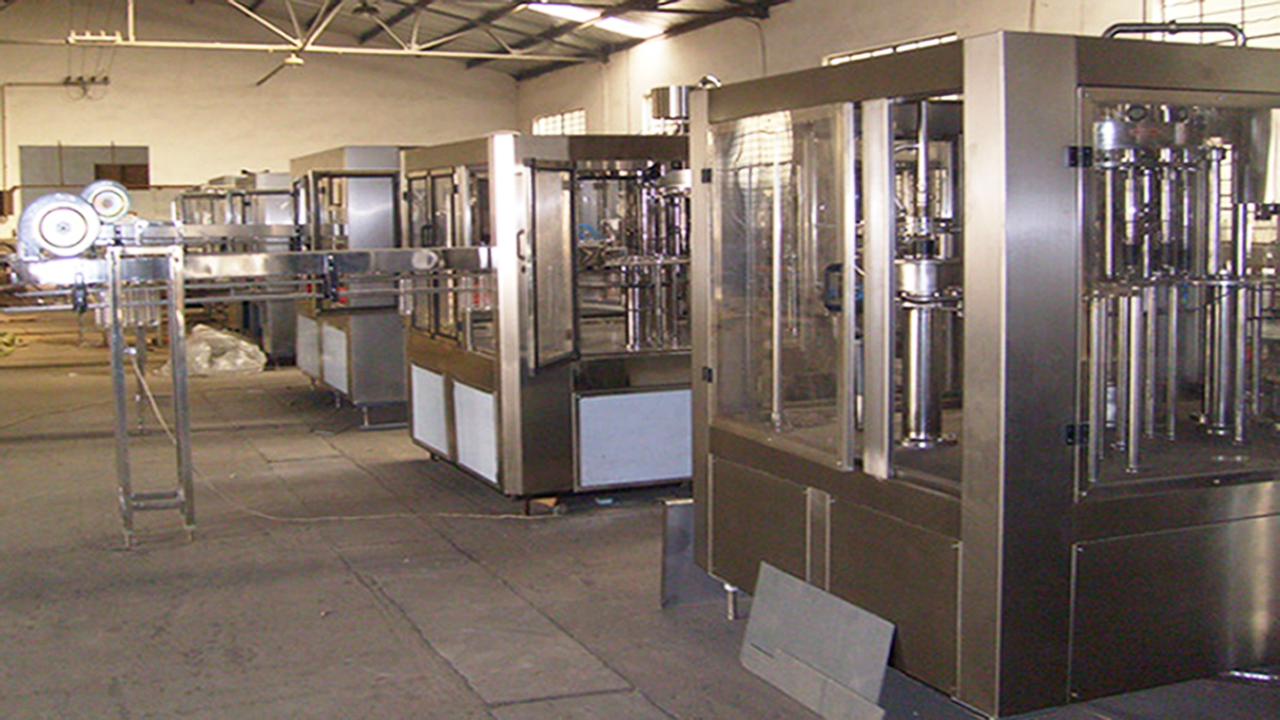 Model

YX- 12-12-3

Capacity (500ml)(b/h)

4000

Filling precision

<±5MM

The size of bottle(mm)

Diameter ofφ50-φ100;height:150-320

Suitable cap shape

Plastic screw cap

Water pressure of washing bottle (Mpa)

0.18

Water of washing bottle(Kg/h)

2500

Gas Source pressure (Mpa)

0.4

Gas Consumption(m3/min)

0.4

Total power(KW)

6.57

Total weight (Kg)

550

Dimension (mm)

3200×2100×2250
Ⅳ.YX-E80 ink printer with touch screen for bottle & metal cans
1.Full colour touch screen provided by Hitachi
2.Electronic components purchasing the latest AMR world's most advanced chips. 3.Power offered by the Aerospace Industry
4.Content can be modified during printing without stopping the production line
5.All stainless steel chassis parts, meet IP55 standard of protection.
Ink Printing parameter model YX-E80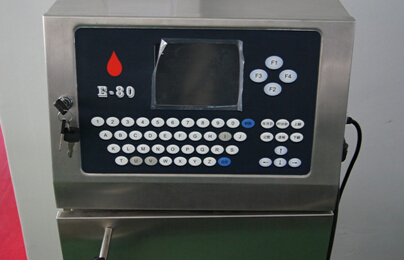 1.With photocell, a sensitive function of n-jet printing
2.Printing lines:1-4lines
3.Counter meter: Can be printing at any units of meters
4.Printing speed:2m/s(5*7)
5.Dot matrix printing
6.Character:8*8 can be combination in any form.
7.Editing Function: interplay
hybrid, rotate, combination,variety of different fonts,space or bold etc in 36 spot lattices.
8.Power requirement: AC220V 50HZ 75VA
9.Nozzle pipe:2.0m(It can be made according special specification
Operation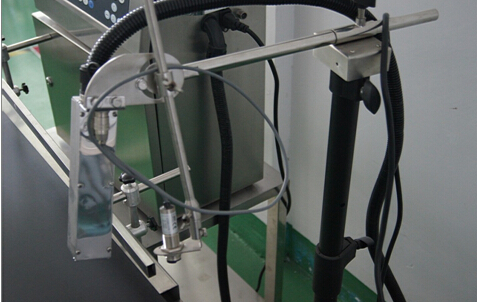 Operation interface color touch screen, Chinese-English menu Information storage unlimited storing of printing information
Chinese input pinyin input method, zone bit code input method
Printing ink black, blue, red and other colors of ink
Printing height of characters 1 ~ 15mm (adjustable)
Printing distance 0 ~ 30mm (adjustable)
Character widening 1 ~ 9 times, widening of one single character is available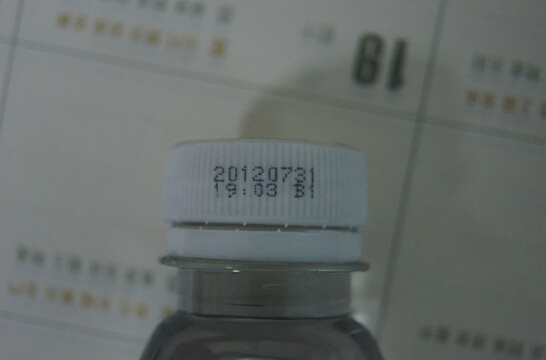 Ⅴ. Bottle sleeve labeling machine with shrink tunnel labeling machines Model YX-SL150

1) Features of bottles sleeve labeling machines :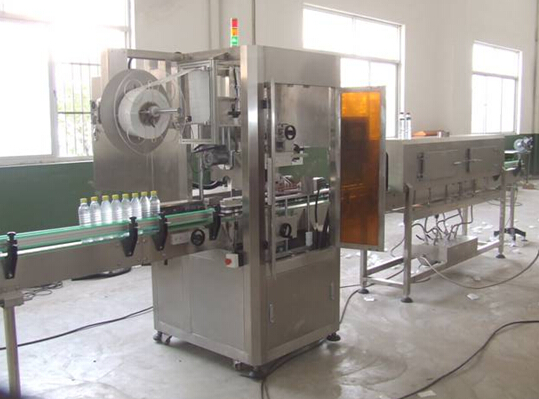 a. Various bottle type;round, square and so on.
b. High precious location;save cost and correct.
c. Suitable for adjustment inside film range from 3′to 10′.
d. Man-machine conversation liquid crystal screen;easy operation
e. Magic Eye control feeding material, automatically.
f. PLC control system
g. High- speed sleeve film.(Temperature; from 100 to 600°C suitable for various film material
h. Screw transportation located system;Location for various shape bottles.
i. No need tool adjustment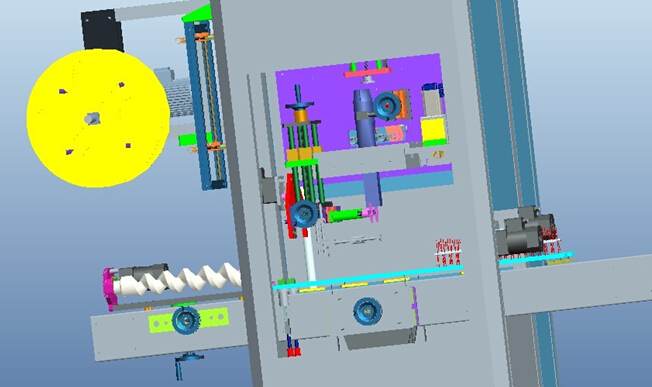 1 Synchronized transmission, any change of transmission belt will be finished quickly. Compared to the type of traditional multilayer whose change and maintain need more than six hours, its maintenance is easy and
maintain is simple, so it doesn't influence production.
2 Unit cutter head plane design in China which apply to the container of 30mm—130mm.you never need to change
or debug it. It also has unique light touch human-machine screen, that means,auto search original location as well as safety and convenience which is aheadof other congener products.
3 Single shrinking label feed plane ,reasonably height which is convenient to fix the label; micro-computer auto figure which avoid enactment and adjustment .you only need to press it lightly ,the label will detect and locate automatially.The change of label is quick and convinient,besides,the cut place is absolutely exact .
4 Label feeding equipment;driving synchronized tensility control the supply of label ,the supply ability is 90meters per minite,volume
label supply plane is 500mm,the internal diameter of paper tube will be 4' ,8',10' .the configuration of label feeding is
stable tensility which enable the exact length of label and the stable ,quick supply of label.
5 The center pillar applies step by step shoot label structure and the speed is 150B per minute.
6 The newly designed cutter head use step by step motor driving which speed is high, action is exact, the cut is in order and the shrinking is beautiful. This design cooperates with the label synchronized location structure enable the precision of cut location within 1mm.
7 Many emergency stop buttons enable emergency stop at the proper position along the production which guarantee the safe production.
Main technical parameters of the sleeve labeling equipment: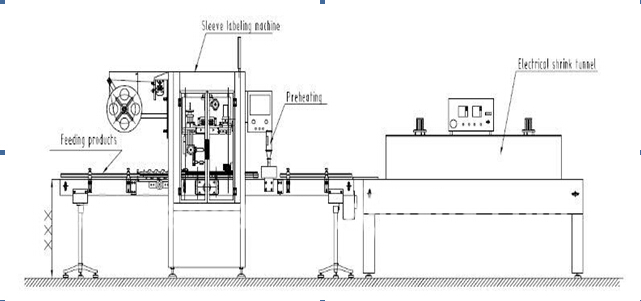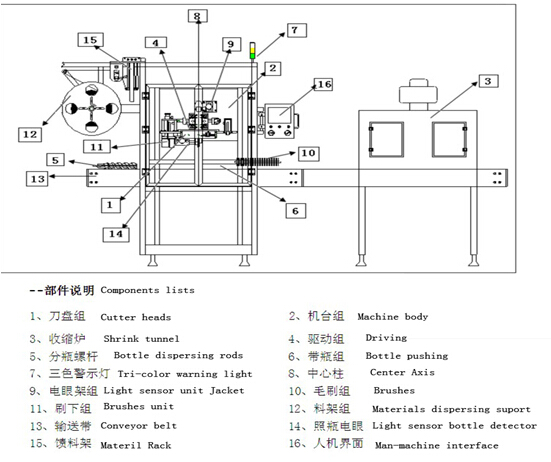 Voltage;
1 Host machine; AC220V, 50/60HZ, 1.5-2KW, single-phase
2. Production speed;7000-9000 b/h
The standard length of label is 100mm
and the speed can be adjusted accord to customer's requirements. The speed will be faster if the label is shorter.
4. Diameter of bottle body; 28mm-125mm
5. Length of label;30mm-250mm
6. Thickness of label;0.035mm-013mm
7. Material of label;PVC, PET, OPS
8.label material:pvc,pet,ops
9.shrink machine size:2100*850*2000mm
steam pressure:1kg/cm2
steam:50kg/h
steam furnance size:2000*500*1700mm
host machine;L2000MM*W850MM*H2000MM
Bottle kinds :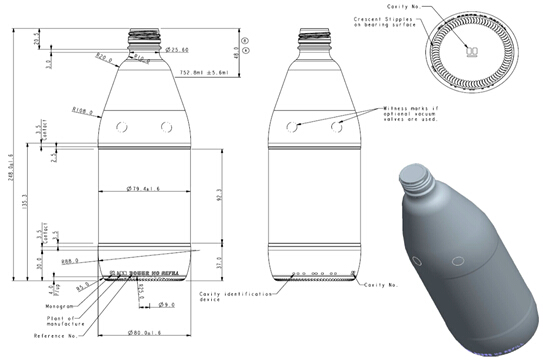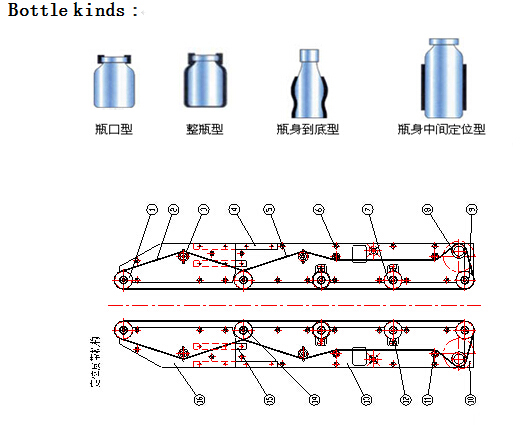 Ⅵ.Model YX-SP6540 bottles packs sleeve wrapping machine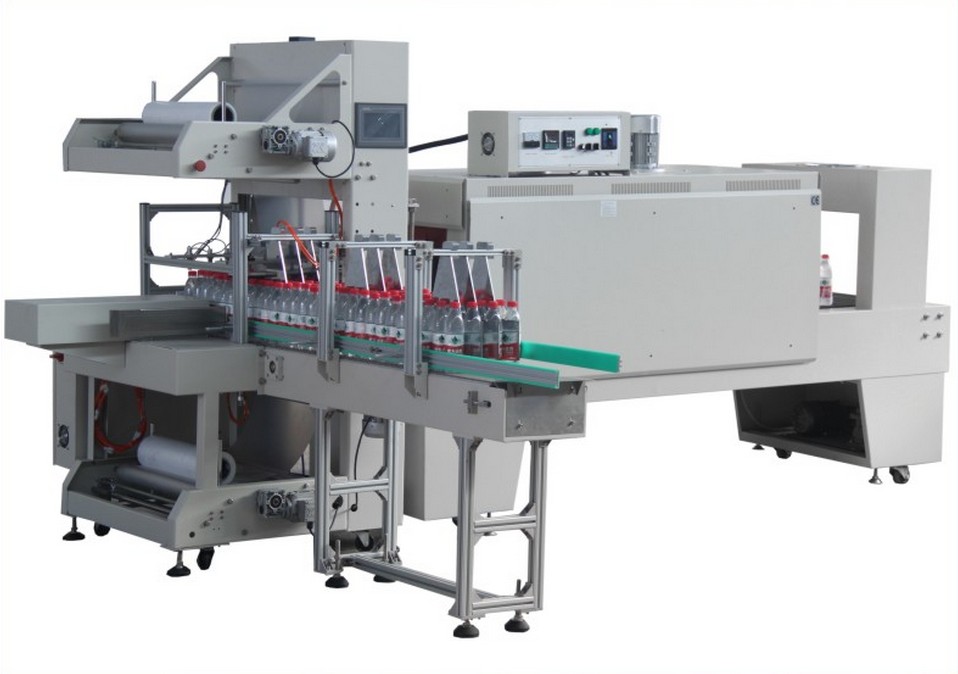 The sleeve sealing thermal shrink packaing machines model YX-SP6540 is widely used
in beverage, food, medicalchemical combinative package. It can make package perfect what ever it is
without pallet, cartoon,, rectangle, round or flat shape,
it has the advantage of less cost and better appearance. It applies PLC automatic controller,
man-machine interface, ensure that no fallen bottle, no bottle shortage.
It adjusts flexible, safe and beautiful. The adjustable hot wind recycle structure make machine suits
for all kinds of thermal films (including color printing).
Replace film conveniently. It has failure alarm, lock device, reliable running.
The whole machine applies super steel and stainless steel, with compact and endurable structure.
This new type of wrapping machine is the ideal equipment for beverage filling line.

Features of sleeve shrink packaging machinery for bottles cans boxes packing:
1.Upper and lower motor driven conveyor systemto facilitate film convey
2.The bran d "NORGEN" of Bngland air-run control the complete set of working
3. Imported Japan Mitsubishi programmable logic controller (PLC)with stable performance
4. Stick-free Teflon-coated sealing cutter to ensure clear and stick-free sealing lines
5. Reinforced con veyor motor to ensuresteady transport
6. Adoping German advanced technology, elaborating according to European process.
7. Imported converter to achieve 0-12m/min. Adjustable speed range
8. Large power double fan motor, assure enough circulate wind
9. Ultrast rong cooling system to ensure quick formation after heat-shrinking of products
10. Furnished with anchor bolts for integration with the production line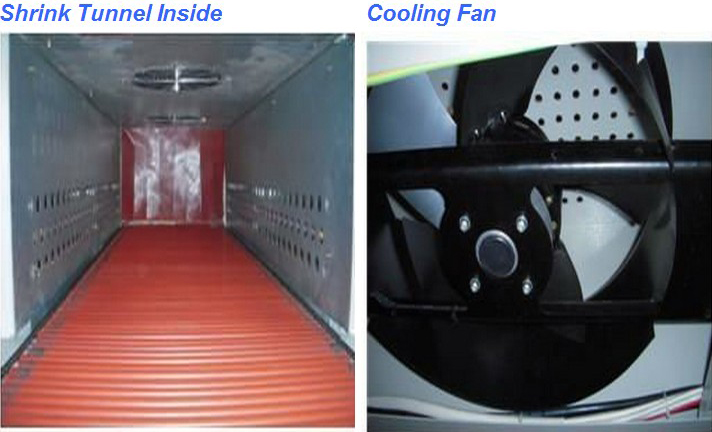 Full Automatic Sleeve Sealing Shrink Packing Machine packaging equipment consists of following parts: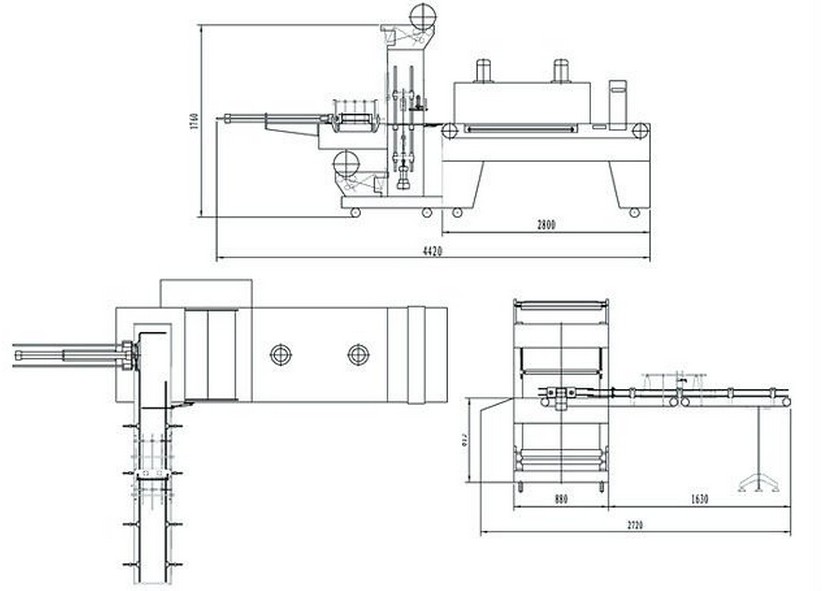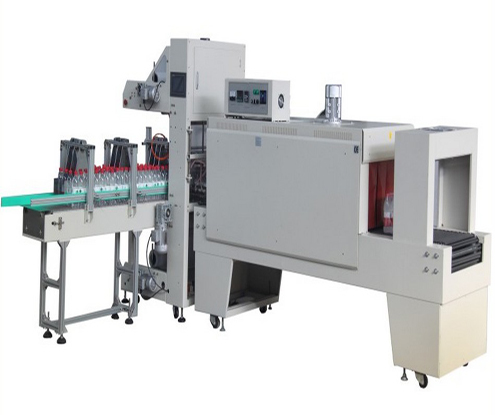 Bottle conveyor device: transfer goods which need package
Block bottle, dispart bottle device: transfer packages in separate way and control strock of package.
Block bottle position inspecting device: separate bottles to package and consequent bottles.
Pushing bottle, guild bottle device: Pushing bottles to sealing &cutting position.
Press bottle device: prevent bottle from inverting when sealing and cutting.
Film fix length conveyor device: transfer package film.
Sealing &cutting device: seal and cut package film.
Hot wind recycle device: To fulfill thermal shrinkage function.
Heat resistant conveyor device: Transfer finished products under high temperature,
and fulfill thermal shrinkage function.
Finished product storage device: storage products temporally.
Coolling device: Cool product so that convenient transfer products to required position.
PLC control system: automatic control
Basic parameter of fully automatic sleeve sealing shrink packaging machine with oven tunnel: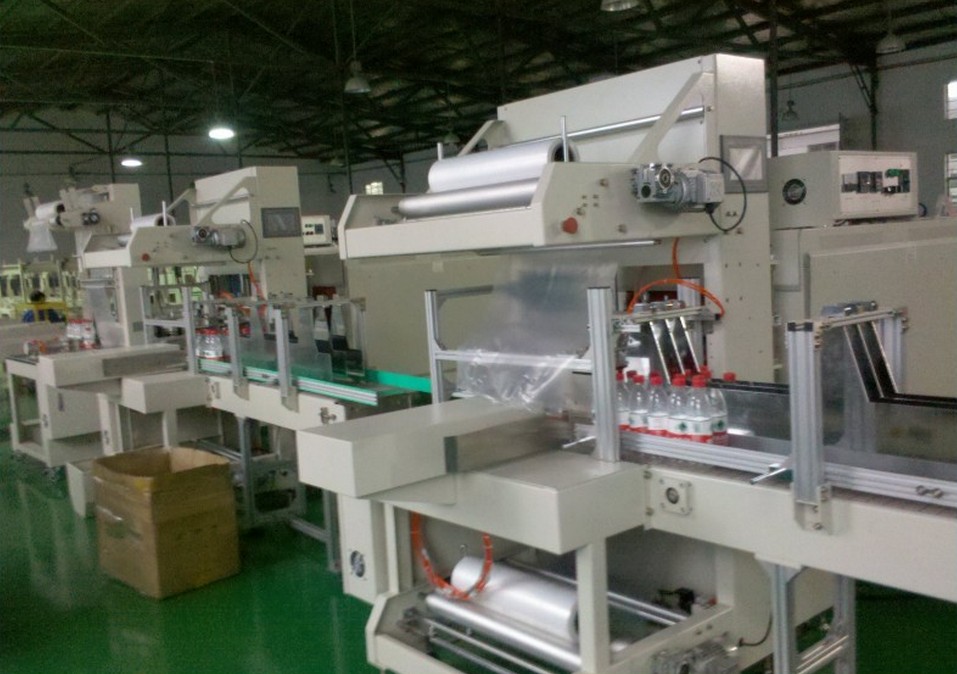 Technical data model YX-SP6540 Sleeve sealing machine for mineral water bottles food cans packaging :

Sealing type

sleeve sealing

Power supply

380V/50-60Hz/3phase

Max product size

420(L)*300(W)*320(H)mm

Max Packing capacity

20 packs per minute

Film type

polyethylene (PE) film

Max film size

630 (width) *280mm(outer diameter)

Power consumption

20.5kW

Tunnel oven size

1800mm(L), entrance 600(W)*400(H)mm

Tunnel conveyor speed

variable,controlled by frequency converter,15m/min

Tunnel conveyor

chains with rotating silicon coated rods

Working height

800-850mm

Air pressure

≤0.5MPa(5 bar)

P L C

SIEMENS S7

Sealing system

permanently heated seal bar coated with Teflon

Operating interface

Eview displayer

Machine material

carbon steel

Weight

1050kg
Samples of final products processed by sleeve type sealing thermal shrink packaging machines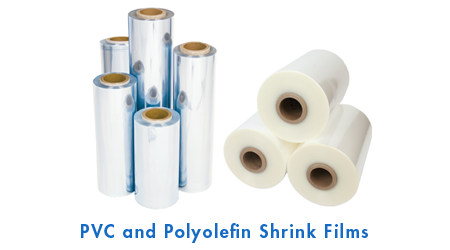 Packaging pictures about our machine exported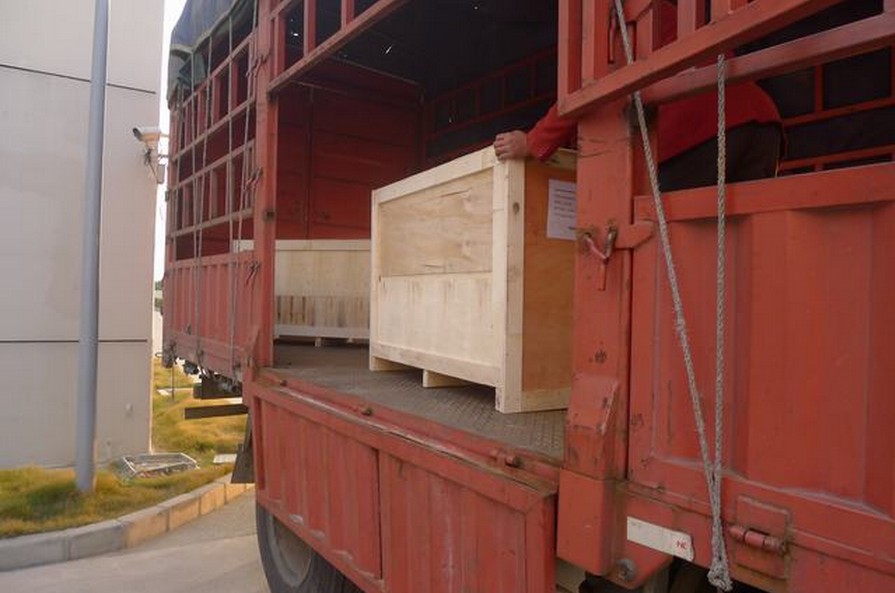 Guarantee: for all the machine, it claims one year for guarantee.(Excluded from the warranty are problems due to accidents, misuse , misapplication, storage damage, negligence, or modification to the Equipment or its components.
ALSO THE EASY BROKEN SPARE PART IS NOT INCLUDED IN THE GUARANTEE)
Installation: after the machine arrive your factory,if you need,our technician will go to your place to install and test the machine and also training your worker to operating the machine (The time of train depend on you worker).
The expenses (air ticket ,food , hotel,the travelling fee on your country) should be on your account and you need paid for the technician USD50 per day. also you can go to our factory to do training.
After service: If you get the problem on the machine ,our technician will go to your place to fixed the machine as soon as possible. The cost should be in your account.(as above).
PENGLAI INDUSTRIAL CORPORATION LIMITED
Previous: Stand up spout bags filling capping machine automatic with bag loading system for juice liquid jelly
Next: honey cream thick sauce forming filling sealing machine cups filler sealer equipment fully automatic