fully automatic filling machine

plastic bottles milk gravity filling foil film forming sealing line automatic liquid filler sealer customized equipment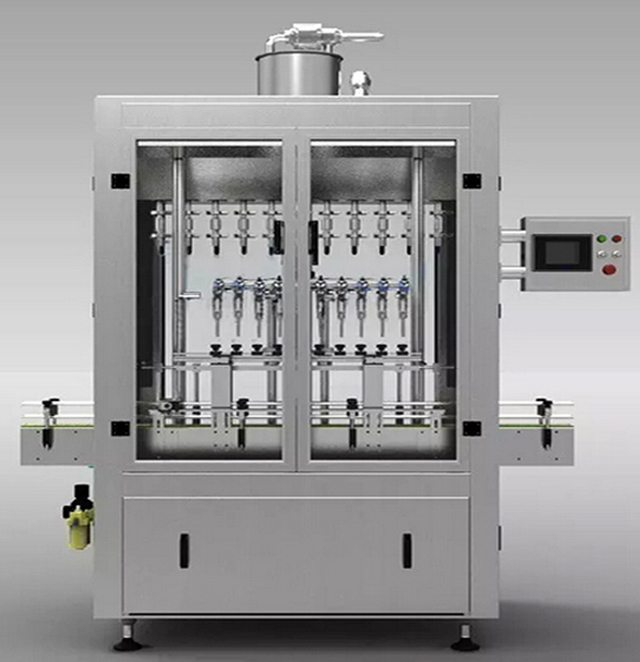 The Time Gravity Filling Machine is often used for filling free flowing, non foaming, non flammable chemicals because of lower relative capital cost and flexibility of container size and geometry.
These machines can be used to efficiently fill both containers with smaller openings as well as large bulk containers with large openings. However, if the product is foamy,
the time gravity filling machine may not be as efficient as the overflow filling machine for filling containers especially with small openings.
Although time gravity filling machines can be configured with subsurface and "bottom up fill" filling nozzles to control foam in smaller containers,
this configuration does reduce throughput. On large containers filling either foamy or non foamy chemical products,
the time gravity filling machine with subsurface filling capability is a very practical machine to use since the overall throughput requirement on bulk containers is usually low.
Time Gravity Filling Machines are also preferred where it is not practical to pressurize or recirculate dangerous chemical products like corrosives or explosives.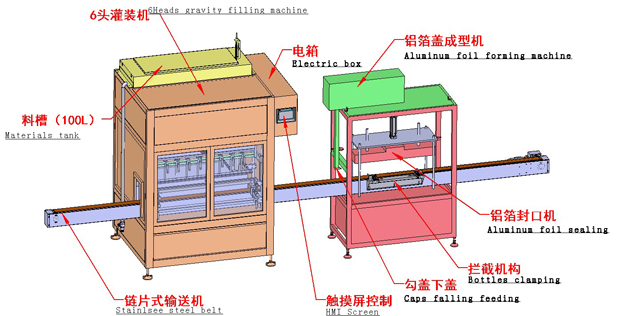 Mark:1、Size in the illustration as reference,if limited by the factory Arrangement,notify us beforehand。
2、Process:Manual putting bottles→6heads automatic filling→caps falling feeding→6heads aluminum foil sealing machine。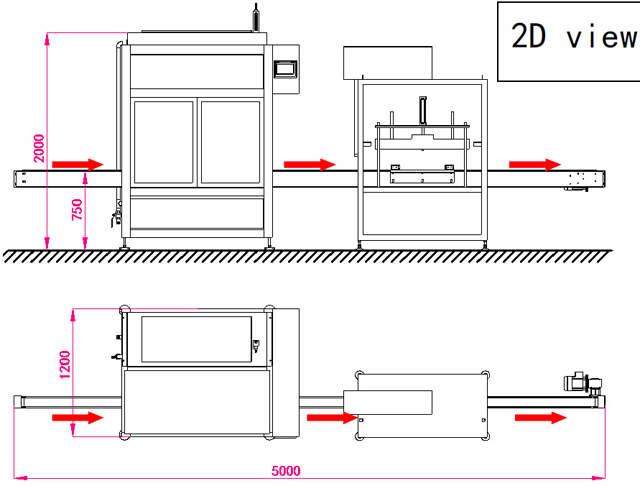 6heads gravity filling machine linear
Parameter of 6heads filling machine gravity filler linear
1.Filling nozzles
2.Filling volume: 100ml to 1000ml
3.Filling type: Gravity filling
4.Filling speed: 35bottles per min (according to 330ml bottles)
5.Filling accuracy:1%
6.Materials:Stainless steel frame
7.Controller: PLC screen
8.Contact part made of SS304,GMP standard
9.Air pressure:0.6-0.8MPa
10.Convoyor belt: POM slate 82mm width,speed 0-15meters per min,height
750mm±25mm
11.Belt motor:370V invertor speed regulator Motor
12.Power:5KW/AC220V/380V 50/60HZ
13.Tank volume: 100L(with liquid leval switch)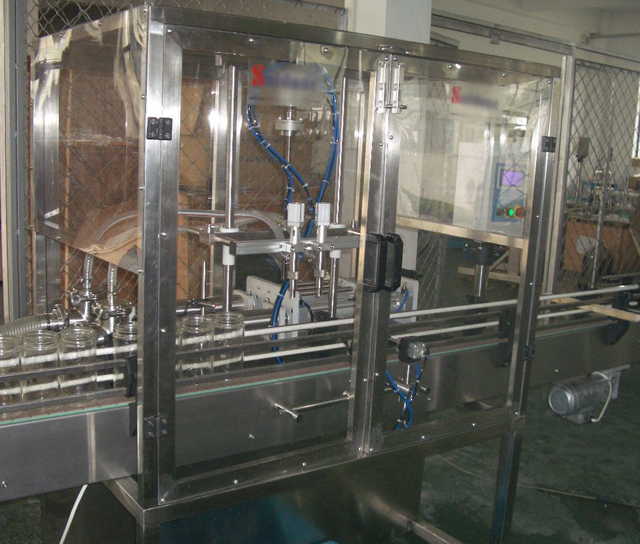 Aluminum foil sealing machine
Data of sealing machine: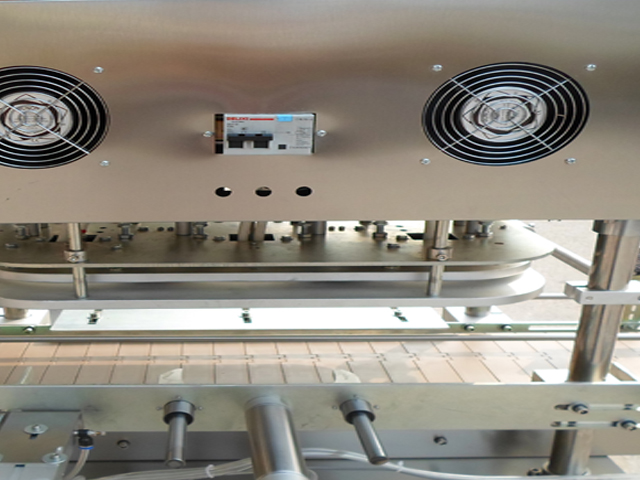 1.Application:customized according to customer's samples
2.Capping type:automatic falling feeding caps
3.Sealing type: Heating pressing sealing
4.Speed:30bottles per min
5.Materials:Stainless steel frame
6.Controller:Share screen with filling machine
7.Power:3KW
8.Air pressure:0.6-0.8MPa
9.POM slate 82mm width,speed 0-15meters per min,height
750mm±25mm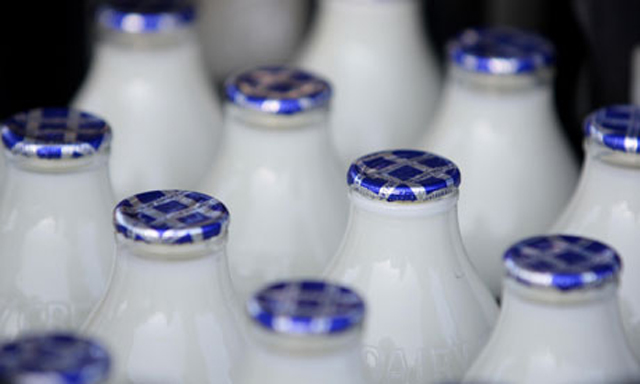 Main configuration:
1. Frame: Stainless steel
2. POD: Stainless steel
3. Rail: Stainless steel
4. Pneumatic part: SNS
5. Contact part made of SS304,GMP standard
6. PLC controller: Taiwan Yonghueng
7. HMI:7" touch screen
8. Photosensor: Leuze
9. Relay&Air Switch :Schneider
10.Materials drawing pump:Made in China
11.Motor Invertor: Yineng
12.Materials of conveyor belt: SS slate 82MM width
13.Motor for belt : 370W AC motor China
14.Sealing for filling machine:Teflon Ring
15.Protective chamber: Acryl Glass
16.Exposed parts: Stainless steel, aluminum anodic oxidation treatment and plastic parts
Wooden case packing for filling sealing machine: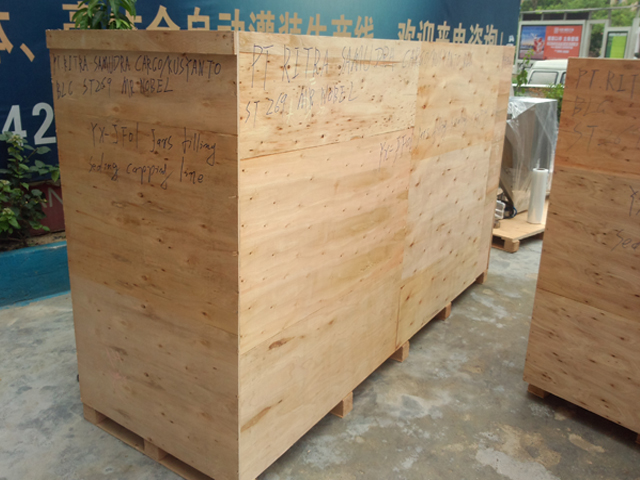 Guarantee: for all the machine, it claims one year for guarantee.(Excluded from the warranty are problems due to accidents, misuse , misapplication, storage damage, negligence, or modification to the Equipment or its components.
ALSO THE EASY BROKEN SPARE PART IS NOT INCLUDED IN THE GUARANTEE)
Installation: after the machine arrive your factory,if you need,our technician will go to your place to install and test the machine and also training your worker to operating the machine (The time of train depend on you worker).
The expenses (air ticket ,food , hotel,the travelling fee on your country) should be on your account and you need paid for the technician USD50 per day. also you can go to our factory to do training.
After service: If you get the problem on the machine ,our technician will go to your place to fixed the machine as soon as possible. The cost should be in your account.(as above).
PENGLAI INDUSTRIAL CORPORATION LIMITED
Previous: Nail polish eye drops filling capping machine with mechanic robot fully automatic rotary filler capper servor motor system
Next: E liquid cig juice bottles feeding turntable filling caps falling capping labeling machinery fully automatic filler equipment