perfume filling machine

6 heads magnetic pump filling machine semi automatic tabletop filler for perfume oil liquid shampoo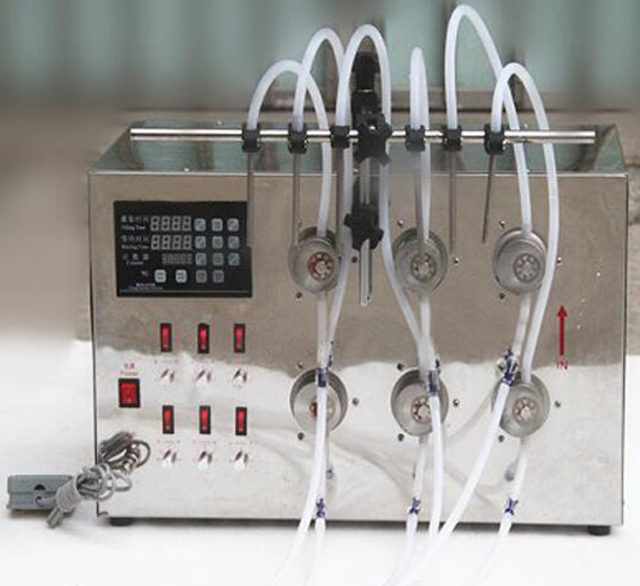 Perfume filler tabletop semi automic liquid fill equipment Magnetic Gear Pump Liquid Filling Machine with Six heads
Overview
1)The gear pump is drived by magnetic power,the pump head and the motor is connected Without shaft.So there's no need to worry about the burnout of the motor because of the high load of the pump.
2)Pump head and motor is imported from Japan,other components are manufactured in Taiwan,the function is steady and useful life is long.
3)Pumper head is made from 316L stainless steel,acid alkaline, corrosion-resistant.
4)The motor run is adjusted by potentiometer,the degree of accuracy of filling time can be
lower to 0.01 second,so that can guarantee the filling accurately,the deviation is under 2%.
5)Filling capacity is from 5ml-any volume according to your need.
6)Fully functional,can be operated by hand,intermittent pedal filling,automatic intermittent filling.Intermittent time can be adjusted.
7)Wide application,almost can be used to filling any flow liquid,especially suitable for oil,washing fluid,Acid base solution,,High corrosion resistance liquid.
Feature on filling machine 6 heads :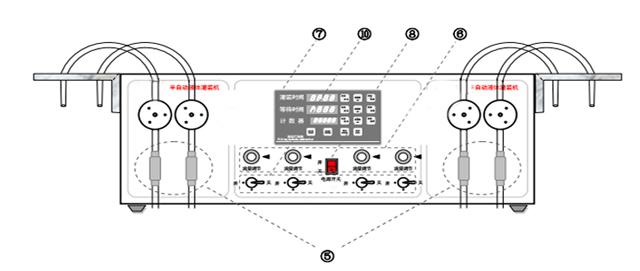 1)Adopts world-famous frequency conversion controller and imported high-precision multi-circle potentiometer & lockable dial, which makes the flow stable and accurate with a tolerance of -+2%;
2) imported magnetic 316L stainless steel gear pump, with reliable quality and longevity;
3) small size, easy to operate; convenient for cleaning and sterilizing;
4) full function, automatic or semi-automatic available; can be used in production line;
5) can be equipped with flexible filling nozzles; normally equipped with single nozzle or double nozzles;
6) can fill most types of liquids such as oil, beverage, perfume, water, ink, etc;
7) large filling range from 5ml to 10000ml, can be conveniently regulated;
8) complete 304 stainless steel mold, which reveals elegant and natural;
9) micro-computer control, digital display, clear and easy to us;
Specifications of multihead magnetic pump filling machine for perfume liquid shampoo oil :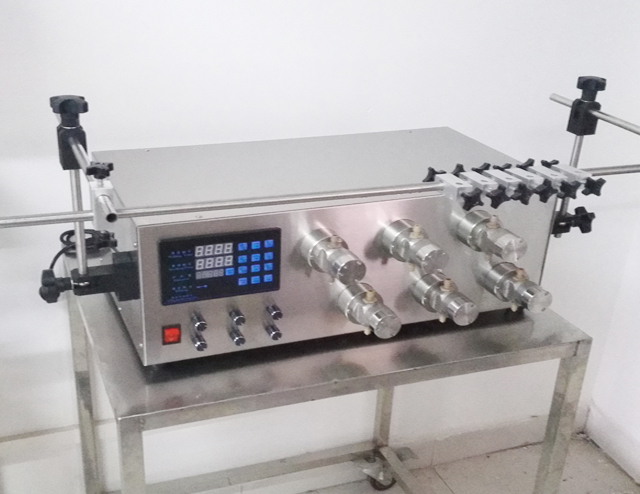 | | |
| --- | --- |
| Voltage | 220V |
| Power | 80W |
| Deviation | ±2% |
| Cooling Mode | Air cooled |
| Max capacity | Unlimited for water |
| Capacity/min*nozzle | 2L/min*nozzle |
| Weight | 70kg |
| Machine Size | 350*320*200MM |
*Note: The above parameters for reference only. The machine constantly upgrades parameters
may cause the actual discrepancies, please understand.
Application
1) Can fill oil, juice, perfume, ink, water, etc for all containers such as bottles, jars, cans, etc
2) Widely used in cosmetic, drinks, chemical, medical, food industry etc, which can highly improve productivity and product quality.
Pictures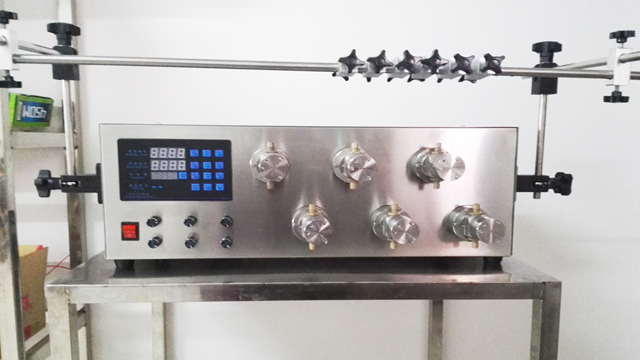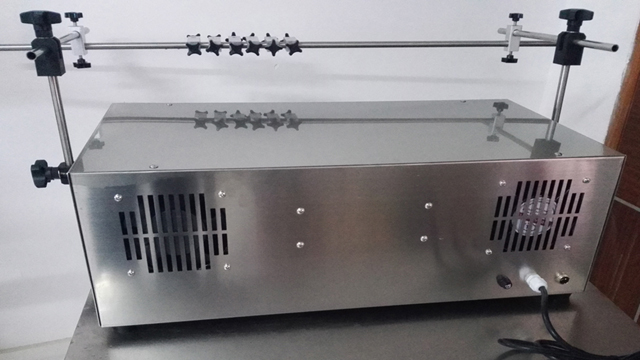 After-sales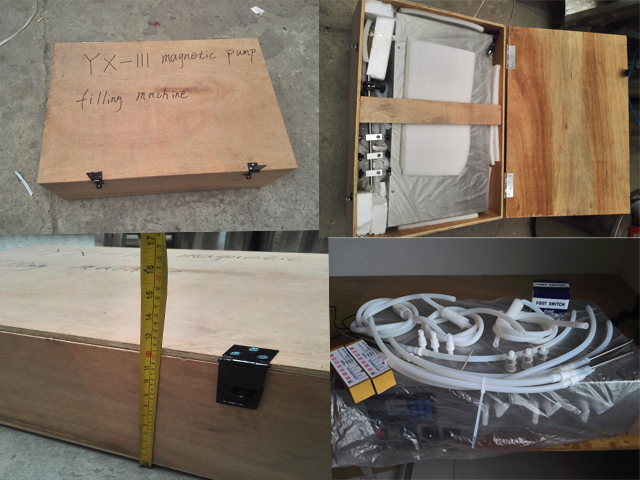 Our machines undergo an extensive and strict testing and quality control procedure,
ensuring each and every item purchased meet global quality standards.
♦Payment Methods♦
These payments of T/T, L/C, Western Union, MoneyGram,Paypal are accepted.
If you have any problem with the payment, please leave a message to us.
♦Logistics♦
DHL, EMS and UPS, Fedex are our choices. If you prefer other reliable
shipping company. Please leave a message to us.
♦Tracking Number♦
Tracking number will be informed within 2-3 work days after delivery goods.
If you have any problem with it, please leave a message to us.
♦Feedback♦
Any comments, suggestions are accepted. We will be very grateful to your positive footprints
left in our company. If you have any problem with our products, please leave a message to us.
♦Refund♦
Any damage or shortage of our goods when you receive your items.
Please take some photos for a witness. We will deal with it in 24 hours.
Frequently, we will send a new part of items for alternative and heavy-damage,
Before refund is accepted, please leave a message to us.
ALL RIGHTS RESERVED by ®PENGLAI INDUSTRIAL CORPORATION LIMITED
Previous: magnetic pump filling machine cosmetic liquid water low viscosity filler equipment semi automatic
Next: roll-on glass bottles filling inserting roller capping machine fully automatic perfume oil fragrance filler capper line