Vacuum emulsifiers

cream vacuum manufacturing machine food honey mayonnaise making machinery vacuum homogenizer emulsifier mixing equipment hydraulic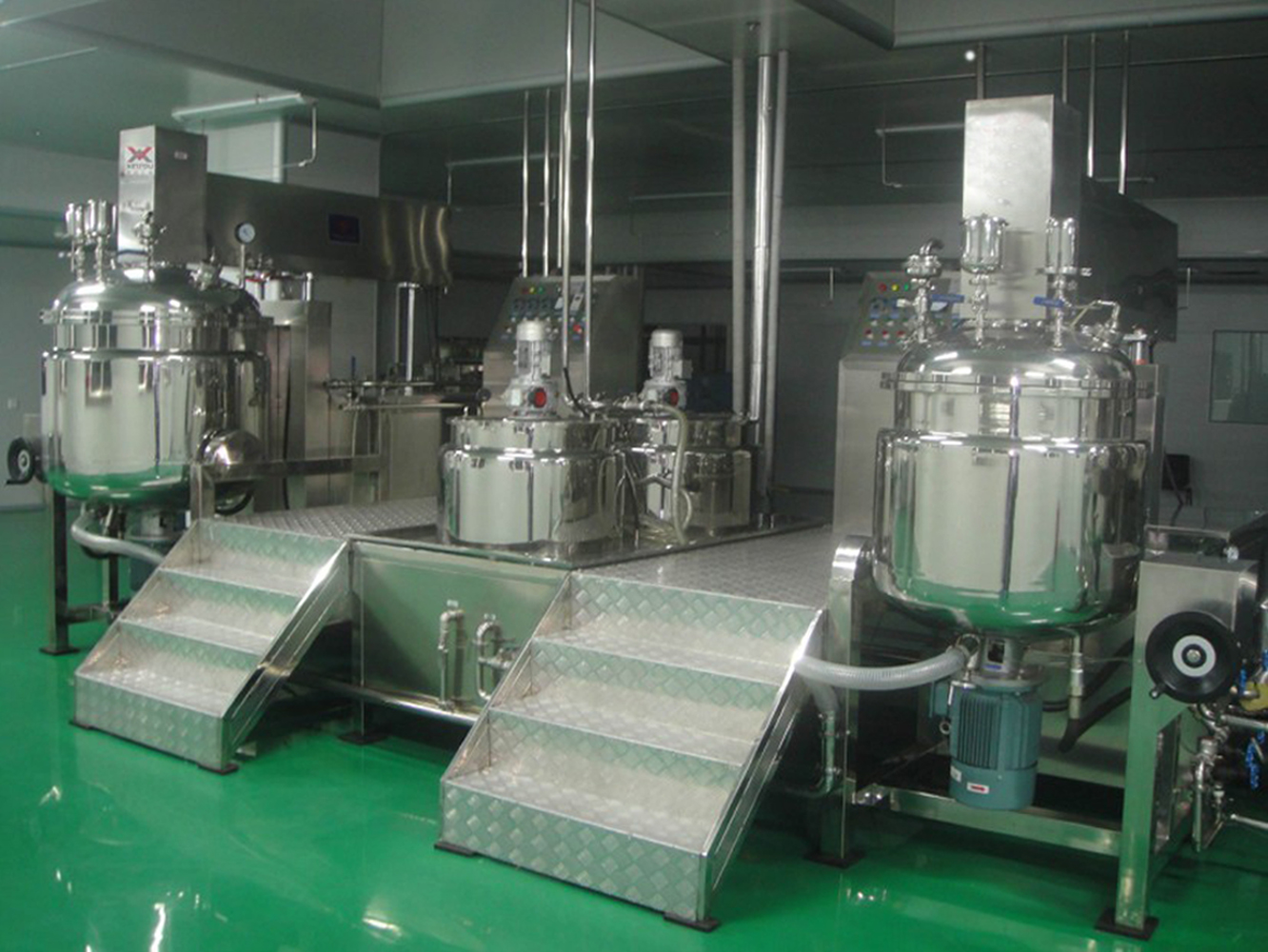 mayonnaise mixing making machine vacuum cream manufacturing making machines Introduction: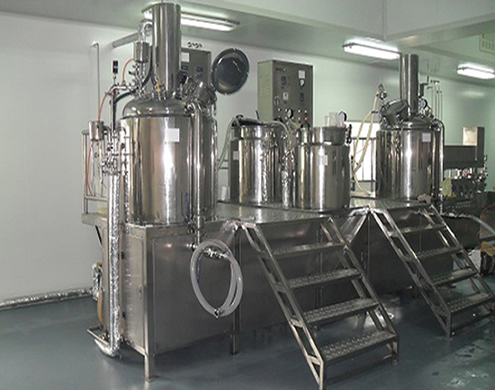 Button controlling system model Vacuum cream emulsifier homogenizer equipment mixing equipments
By the strong force of high speed of homogenizer (emulsifier), the materials will go through the narrow space of the emulsifying head, it forms a powerful circulation in the vessel. In the middle part, the center blades and outer low speed anchor rotates in opposite direction. It performs great shearing, impact, and dispersion in the vessel. It will help to blend, mixer, emulsify, and homogenize the product in the vessel, and increase the stability, smoothness and luster of cream products. The emulsifying (mixing) head is exchangeable for your various products.
The special design of high speed emulsifying head and low speed agitator & blades can achieve high efficiency of mixing & homogenizing, and the teflon scrapers of the agitator can scrape off the materials which sticked to the inner wall of vessel, and make the complete mixing at same time without corner. The teflon scraper is fixed at the outer mixing frame which will change their position by always touching the inner wall when rotating. Those scrapers can help the heat-exchange during mixing and also reduce the time of production.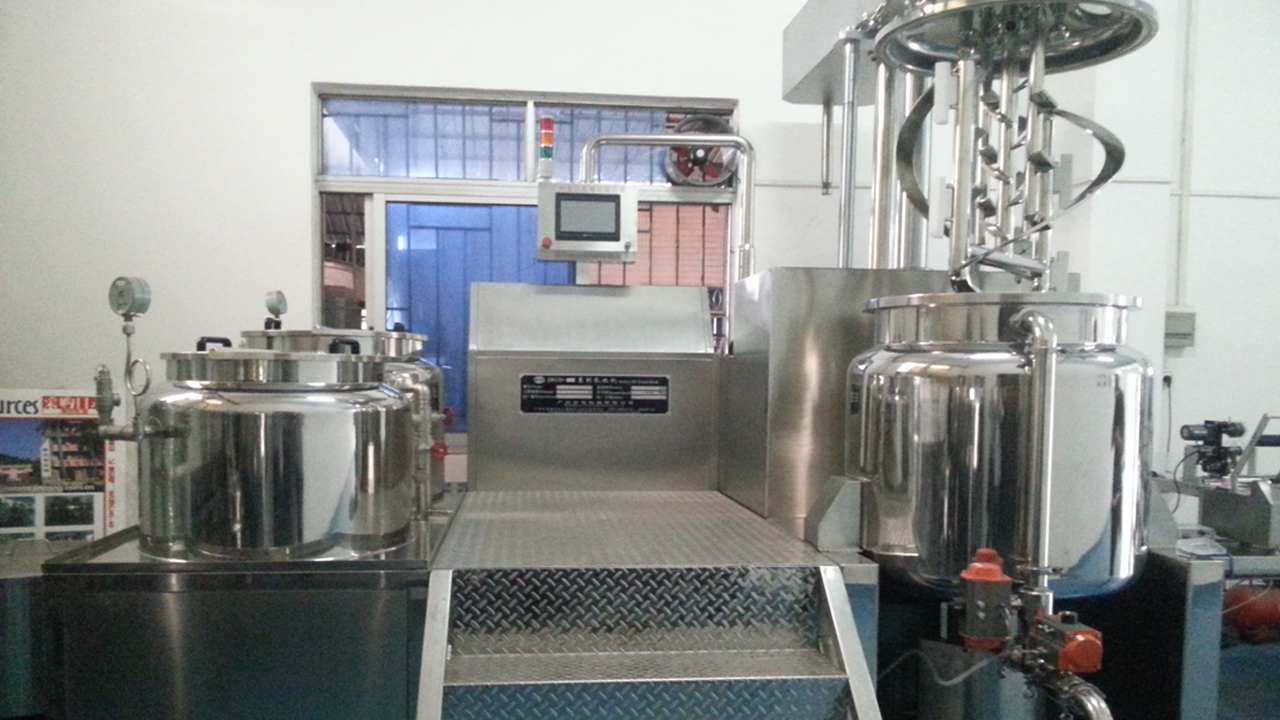 Touch screen controlling system model Vacuum cream emulsifier homogenizer equipment mixing equipments
How does production vacuum emulsification equipment work?
10L-20L laboratory use vacuum homogenizer mixing emulsifier equipment automatic
During the mixing operation, the outer frame agitator rotates clockwise slowly. With the attached Teflon blades, the materials are scraped off the emulsifying tank wall and move upwards so they won't always stick to the wall and burn.
At the same time the inner straight impeller rotates counter clockwise slowly and moves the cream downward into the high speed homogenizing and emulsifying zone.
Because of the two opposite forces by center agitator and wall scraper, the cream rolls over the vacuum emulsification blender from top to bottom and back to top repeatedly. When the cream is completely mixed, the heat from the jacket is quickly transferred to every part through the inside wall.
The heart of vacuum emulsification machinery is batch mixer (emulsifier) which consists of one high speed rotor and one holed stator. The rotor is driven by ABB or Siemens motor and rotates at the speed of 3000rpm producing strong suction force. The materials go into the rotor from both top and bottom and are cut, sheared, emulsified and homogenized through the shear gap between the rotor and stator. Then they're accelerated to jet out through the holes on the stator.
The above three types of slow and high forces repeat and repeat. And the cream can be circulated inside the emulsification machine and mixed, dispersed, emulsified and homogenized evenly.
Water ring type vacuum pump (–0.09Mpa) is powerful to pull out the bubbles generated during mixing, dispersing, emulsifying and homogenizing. It also helps transfer the ingredients from the oil and water phase tanks to the main emulsification plant. The small quantity powders are also sucked by vacuum to avoid dust.
Oil hydraulic pump is used to lift the cover of main emulsification mixer. Safety devices are equipped to guarantee that the mixing part won't start when the cover is lifted.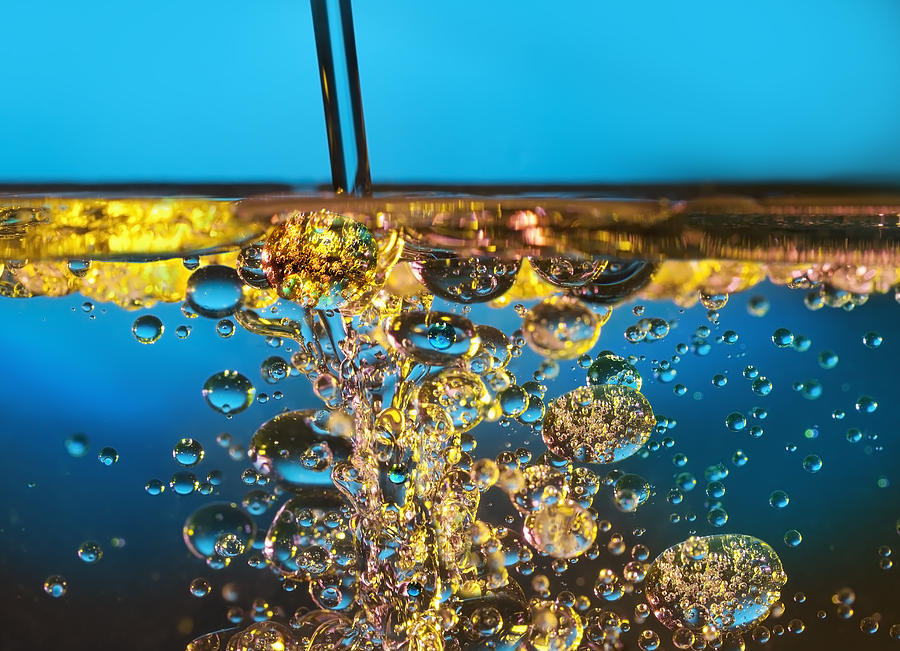 Key features of production emulsification machine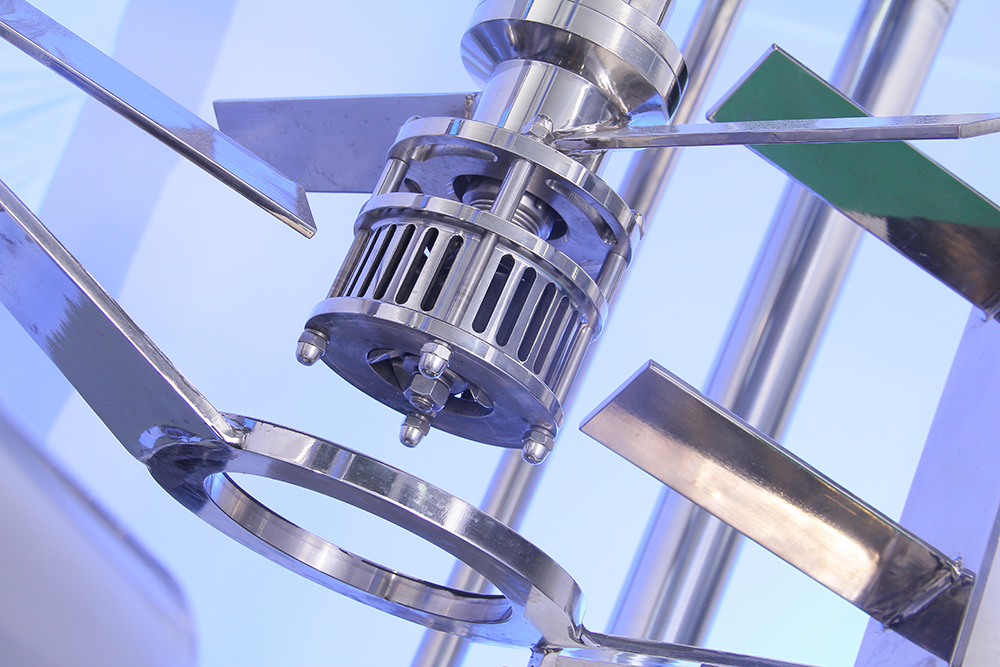 Complete process of mixing, dispersing, emulsifying, homogenizing, vacuum, heating and cooling in one unit

Working capacity from 50L to 2000L

Suitable for cream and emulsions of 10,000~50,000cps viscosity

Internal emulsifying and homogenizing by top mounted batch homogeniser

Contra mixing system of center agitator and wall scraper

Outer frame agitator has triangle design for enhanced mixing

Variable speed for homogenizer and agitators

Oil hydraulic lifting system for easy cleaning and maintenance

Double jackets for heating and cooling

Different jacket designs available for steam and electric heating

Double temperature probes and controllers for electrical heating in main emulsification machine

Vacuum system to take out the air bubbles during mixing and to transfer the ingredients

Compressed air to discharge the finished cream

Tilting system for discharging finished product and easy cleaning

Multiple safety protection devices for vacuum, hydraulic pump and workers

All contact parts are made of SS316L and mirror polished

Spray ball is equipped to connect customer's CIP

The specifications of the vacuum emulsification equipment comply with cGMP regulations

Push buttons control panel for easy operation

Power supply of 380V, 50Hz, 3 Phase
Technical Parameters of vacuum mixing equipments food cream vacuum manufacturing machinery YX-VME series: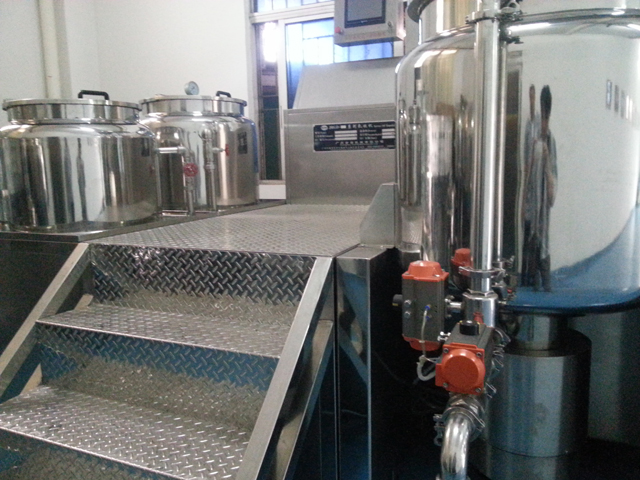 Name

YX-VME150

YX-VME200

YX-VME250

YX-VME350

Emulsifying Pot

Design Volume (L)

150

200

250

350

Capacity (L)

120

160

200

280

Scraper Stirring Power (KW)

1.5

2.2

2.2

2.2

Scraper Stirring Speed (rpm)

0-86

0-65

0-65

0-65

Homogenizer Power (KW)

4

4

4

4

Electrical Heating Power (KW)

6

8

12

12

Homogenizer Speed (rpm)

2800

2800

2800

2800

Water Pot

Design Volume (L)

100

120

160

250

Capacity (L)

80

95

128

200

Power (KW)

0.55

0.75

0.75

0.75

Speed (rpm)

1400

1400

1400

1400

Electrical Heating Power (KW)

6

8

8

12

Oil Pot

Design Volume (L)

75

100

130

250

Capacity (L)

60

80

105

150

Power (KW)

0.55

0.75

0.75

0.75

Speed (rpm)

1400

1400

1400

1400

Electrical Heating Power (KW)

6

8

8

12
Dimension (mm):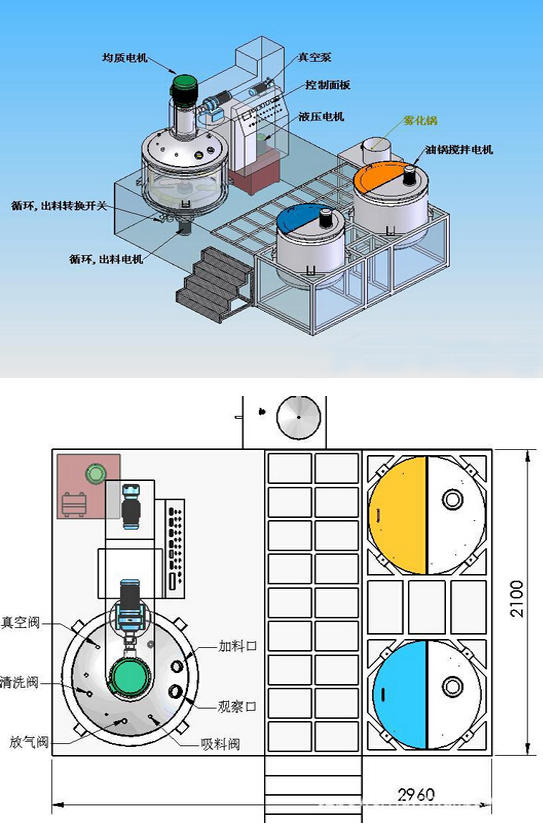 Name

YX-VME150L

YX-VME200L

Length

Width

Height

Length

Width

Height

Emulsifying Pot Rack

1800

1100

2450-3300

1800

1100

2650-3800

Water and Oil Pot Rack

1800

780

1610

1800

770

1610

Table

1800

755

1800

760

Overall

1800

2635

2450-3300

1800

2630

2650-3800
Name

YX-VME250L

YX-VME350L

Length

Width

Height

Length

Width

Height

Emulsifying Pot Rack

1800

1105

2480-3480

2000

1350

2750-3850

Water and Oil Pot Rack

1800

768

1600

2000

868

1650

Table

1800

700

2000

750

Overall

1800

2570

2480-3480

2950

2720

2750-3850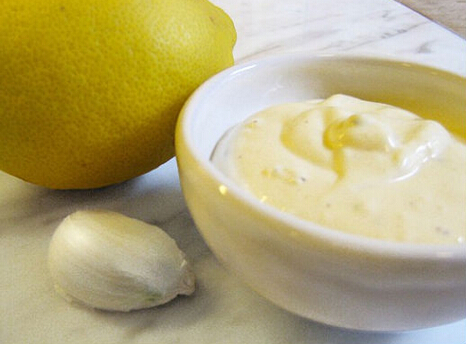 Mark:Mayonnaise is made by slowly adding oil to an egg yolk, while whisking vigorously to disperse the oil. The oil and the water in yolks form a base of the emulsion, while lecithin and protein from the yolks are the emulsifiers that stabilizes it. Additionally, a bit of a mustard may also be added to sharpen its taste, and further stabilize the emulsion. Mustard contains small amounts of lecithin.]It is a process that requires watching; if the liquid starts to separate and look like pack-ice, or curd, it simply requires starting again with an egg yolk, whisking it, slowly adding the 'curd' while whisking, and the mixture will emulsify to become mayonnaise. If water is added to the yolk it can emulsify more oil, thus making more mayonnaise.
After-sales service:
1.Warranty time: one year, from the date which the product is qualified commissioning. Any damage except the
wrong operation during warranty period is repaired freely. But the travel and hotel expenses should be count on buyer.
2. Commissioning services: the product's installation and commissioning at the demand side, our engineers will not
leave there untill get your agreement.
3. Training services: our engineers will train your staff to operate it during the period of installation and commissioning,
and they will not leave there until your staff can operate it properly and normally.
4. Maintenance services: any malfunction happened, once you enquiry us, we will reply you within 48 hours except the
special reasons.
5. Lifelong services: we provide lifelong services for all the products we sold out, and supply the spare parts with discount
price.
6. Certificate services: we can provide related certificates to customers freely according to the request of customers.
7. Inspection services: you can ask the third part inspection company or your inspector to inspect the products before
shipment.
8. The file: the Manual Specification, report of the material which used to the equipment and others documents related
to the GMP authentication information will be provided by us.
PENGLAI INDUSTRIAL CORPORATION LIMITED
Previous: Return
Next: Jewelry tools equipment wax injection system automatic intelligent digital vacuum wax injector desktop for hardware watch accessories with automatic delivery system