home products

honey cream mixed with vitamin vacuum homogenizing mixing machinery touch screen hydraulic lifting vacuum mixer emulsifier factory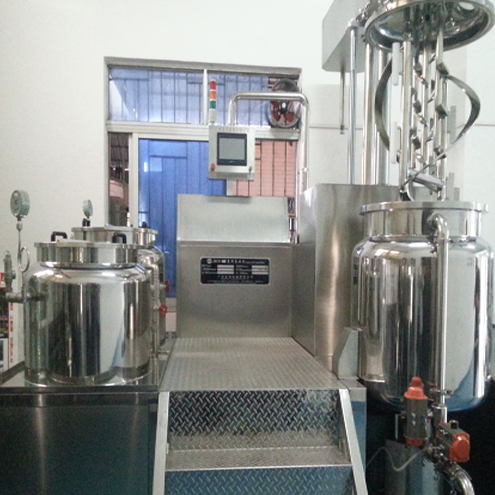 YX series vacuum cream&paste manufacturing machine hydraulic lifting mixing equipment for cosmetic pharmaceutical as well as food processing industry.The skin care cream vacuum emulsifying Machines are suitable for production of ointment and cream products in cosmetic and pharmaceutical plants.The emulsifying effect is more prominent for materials of high base viscosity and high solid content.
The vacuum emulsifier is composed of emulsifying pot (elevating pot lid, flip pot body), water pot, oil pot, vacuum device, heating and temperature control system, cooling system, electrical control system and so on. The equipment can be controlled according to the buttons on the control panel, including the lighting and extinction of the lights, the control of the stirring operation of the main pot, the homogeneous operation of the main pot, the mixing operation of the water and oil pot, the control of the operation of the vacuum system and the heating of water and oil pot. All controls of the device are performed on the control panel.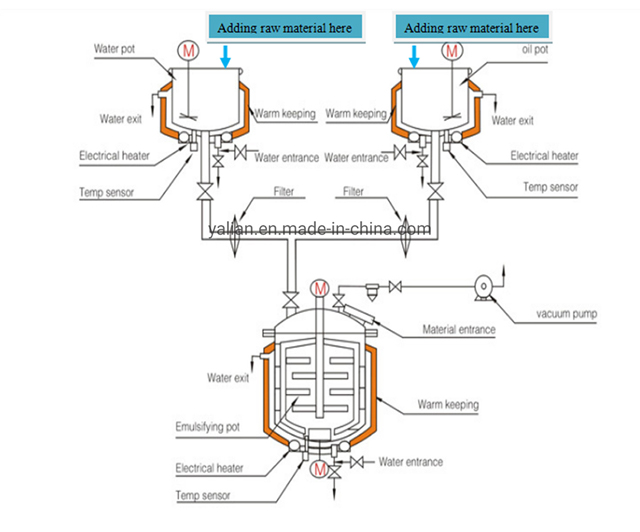 The operation principle of the emulsifier is to shear, disperse, and impact the materials through the high-speed rotation of the homogeneous head linked to the engine, so as to promote the fusion of oil and water. The vacuum emulsifier means that these operations are performed under vacuum. After the materials are mixed and heated in the water pot and oil pot by heating and stirring, they are sucked into the emulsifying pot by a vacuum pump, and the upper wall of the emulsifying pot is stirred and cleaned from the sticky materials on the wall so that the scraped materials will continuously generate new interfaces. Then, after cutting, compressing, and folding the blades and the rotating blades, they are stirred, mixed, and then flowed down to the homogenizer below the pot body. Strong shearing, impact, turbulent flow between the high-speed rotating cutting wheel and the fixed cutting sleeve, which makes the material is cut in the shear gap and quickly broken into 200nm-2um particles. Because the emulsifying pot is in a vacuum state, the air bubbles generated during the stirring process of the material are removed in time. In this way, the material will become more delicate and shiny.
for more information about cream high viscosity materials vacuum mixing equipment visit site at http://youtube.com/user/penglaichina
Previous: cream lotion tubes filling sealing machine semi automatic soft tube filler sealer equipment
Next: fully automatic Small Bottles liquid Filling capping Machine Máquina de llenado tapado